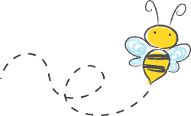 ORGANIC GARDENING
There's a lot of BUZZ about sustainable organic farming, and we couldn't be happier. We've seen how much richer the soil is when we control weeds, pests and disease without toxic chemicals. We're pretty sure it makes our harvest taste and look better, too. We've farmed organic since the day we planted our first heirloom tomatoes. It's good for the environment, and it's great for you. We are not certified yet, but practice organic methods — and the land has been pesticide and herbicide free for over 30 years. During our growing season, the flowers we produce are grown naturally without harsh chemicals. We do order outsourced product during the off-season as needed, and we request U.S. grown flowers whenever possible.
THE FARMIN' FLORISTA
I have been designing flowers for 17 years. It has always been a passion of mine to learn new forms of creativity. When I first started designing, I fell in love with the art. In 2004, I entered a design in the Montana Florists Association's 2004 design contest and was awarded the People's Choice award in my category — it was quite the honor. A few years later, the company I worked for went out of business, and I chose to spend my days raising my children. During those years, I designed flowers for family and friend's weddings and birthdays. When I purchased this property, my life's purpose came to fruition. I decided I was going to grow my product and design lush, wild designs, seasonally - without being restricted by outside sources. Alas, the Farmin' Florista was born.
ABOUT OUR FARM
We purchased this property in spring, 2016. With my husband's love for gardening, and my extensive background in floral design, produce, and merchandising, Big Red Truck Gardens is able to grow and take on an entirely new form. Although it is a circus around here, the ringleader of our operations works tirelessly finding the most unique blooms, growing techniques, and new designs to please the eye. We are so excited to add to the beloved dahlia selections that have been growing here for decades.
big red truck gardens
Snail Mail: 173 Lawrence Lane, Kalispell MT, 59901
Phone: 406.250.6007
E-mail: tausha@bigredtruckgardens.com